Online Violin Lessons One to One beginning with March 2020.
The violin is called the "queen of instruments" because his sound is graceful, unique, fine and difficult to obtain. This device can most expressive, but require a longer study period compared to other instruments.
Boem Club violin lessons are for those aged over 5 years, with no upper age limit.
Along with the violin teachers Boem Club, students have the opportunity to try a professional working method through which playing the violin becomes pleasant and easy.
At Boem Club you can take violin lessons for all levels: beginner, intermediate, advanced.
Beginner level: learning proper position to play the violin strings free top positions, melodies.
Intermediate level: continuing learning positions, reading notes at first glance, refining the sound, interpretation, technical exercises, sound accuracy, learning the ropes of playing the double etc.
Advanced: deepening technique, interpretation refining, expanding the repertoire etc. On request we can make chamber music lessons and accompanists.
At Boem Club violin lessons will learn: correct position, free repertoire adapted to age and level, technical, technical exercises, reading at first glance etc.
A violin lesson lasts 50 minutes.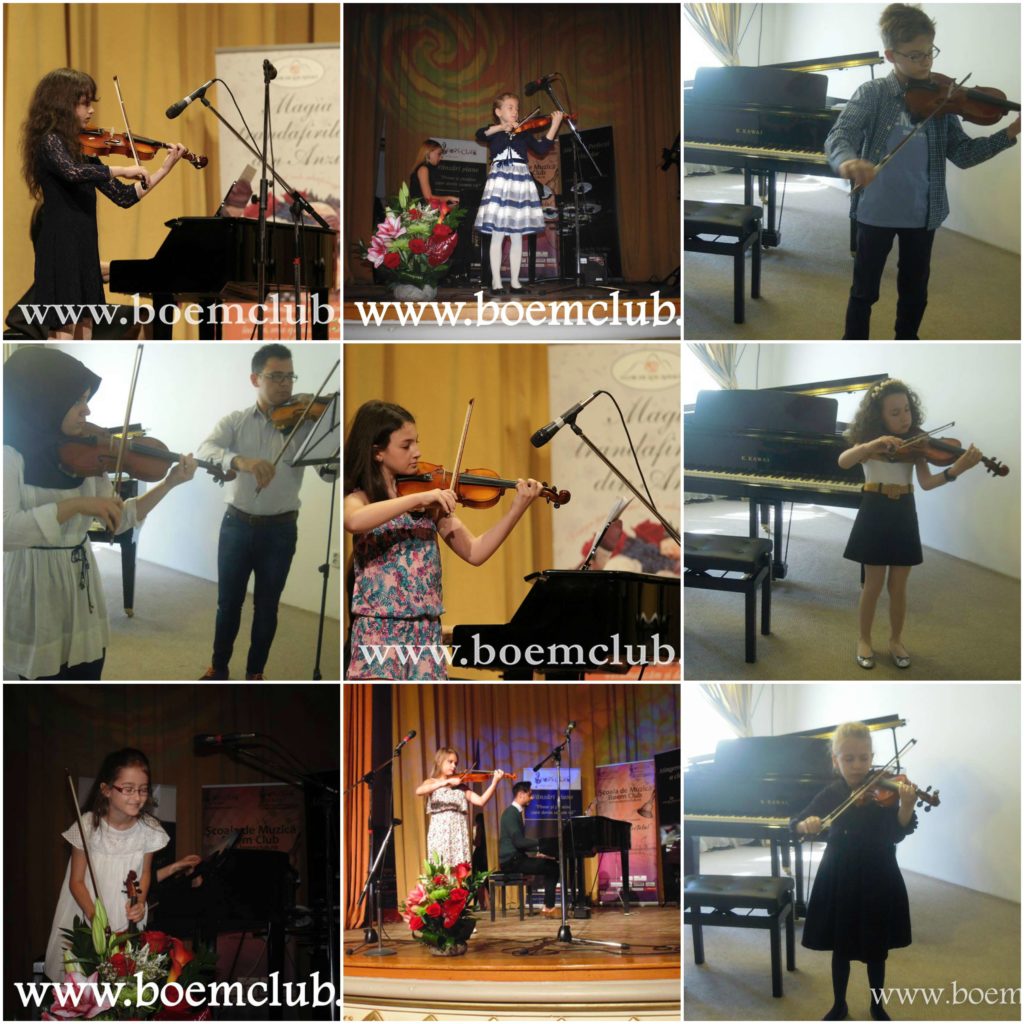 Violin Lessons – Demo

"I know how hard it is to have a school of music as I had at one time a music school, I know how hard it is to hold such a project, I know how hard it is to work with children, and especially parents and that's why I really appreciate what you do here at Boem Club Music School and I wish you a lot of success in the future!".
Analia Selis, Music Singer

"A course after which you leave with a smile, a course that remembers me from childhood, a course where all the daily problems disappear, even for an hour […] At the final of the lesson, I smile wide, as I haven't done it much in recent weeks, I come home relaxed, as if I could have spent an entire day at the spa and in the evening I dream with open eyes, to a grand white piano".
Alina Aliman
, Chief Editor – The One
Incorrect slider name. Please make sure to use a valid slider slug.