"A Piano in the Living Room", a Boem Club Pianos and Frasini Residence Event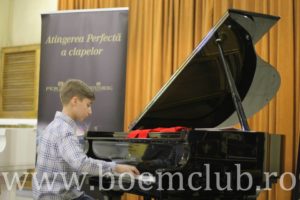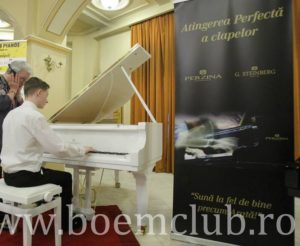 Boem Club Pianos, the largest piano shop in Romania, together with Frasini Residence, a luxury residential complex with a unique architecture, redefine the idea of "home" as "the first cultural space a child has access to" by which it is formed as personality and  relates to the unknown by internalization of the known.
The creation and development of the musical culture starts in the family. "A Piano in the Living Room" aims to bring attention to the need of creating a good ambience in every house, in every living room, so that "home" will become again in Romania, as it was between the two world wars, a cultural space, a space that unites family and friends in pleasant and relaxing musical activities, bringing quality time spent with family and friends, expressed in unique moments together.
It is proven that children who are exposed to a family musical environment have better results at school, develop their cognition processes, imagination, memory, become more attentive to the surroundings, develop harmoniously from cognitive and social points of view, beginning to know and appreciate moral and aesthetic values through and by music help, because music is in itself a universal human language, expressed without words, but expressing the essence of "being in the world," as Martin Heidegger said.
By organizing this event, we aim to point out that each and every house can become an unique cultural space and every family can create this space in their own home, creating a pleasant environment for the close ones and also the premises of harmonious development for children, by listening and playing quality music.
The event will take place on Saturday, November 18, starting at 16.30 p.m., at Frasini Residence and will be unconventional in terms of the new space in which it will be held. Participants will be listening to piano pieces played by Boem Club and Boem Club Pianos friends, who support cultural initiatives for integrating quality music into everyday life.
 About Frasini Residence
Frasini Residence is a complex of villas with entrances and individual courtyards, located in Chitila town on Frasin Street. The adopted architectural solution is one of the most appreciated in the residential areas of Bucharest and around it, required and executed in the spirit of functional and practical projects, to bring to the owner the joy of spaces specially designed   to delight, relax and to create the perfect environment for living .
 About Boem Club Pianos
Boem Club Pianos is the largest piano shop in the country with a permanent stock of over 30 pianos with new acoustic pianos, as well as fully refurbished on the factory line instruments.
Boem Club Pianos instruments are suitable for both residential and concert halls or music institutions. Acoustic pianos are recommended to both beginners and advanced pianists, equally.
 Contact details for additional information and enrollments:
Tecla Radulescu
PR Manager
E-mail: tecla.radulescu@boemclub.ro
Telephone: 0768 729 662